4th of July Party Games for Kids
David Hansen
Thank goodness that we have a big holiday in summer. Let's celebrate it with kids just like celebrating Christmas in winter. There are many fun patriotic games for a 4th of July party for kids.
Patriotic Bounce House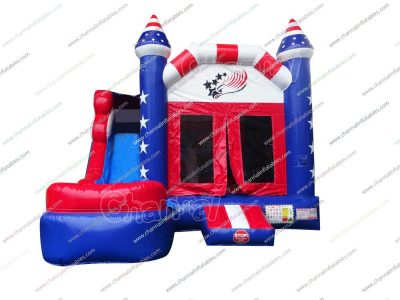 Why not hiring a 4th of July theme bounce house for kids to jump and have fun? These bounce houses are generally painted in blue, red and white colors, just like the flag of United States. Furthermore, there are other types of inflatable patriotic games on this article, you should totally check it out.
Water Slide
Since Fourth of July occurs in summer, that screams inflatable water slide utterly. In addition, blow up slip and slide is easy to set up in your backyard and share the same fun with water slide.
Flag Hunt
It's scavenger hunt time. On this very occasion, we are going to hunt down the national flags. You may use clues to find those hidden flags dispersed all across your house and yard. Obviously, the one who collect the most flags wins the game. The winner prize could be a big piece of a patriotic cake.
Pictionary + History
This version of Pictionary tests your and your teammate's knowledge on American history. The picture to draw and the word to guess can be the year of Independence Day, certain famous person in history, some significant historical events or even classical American musics.
Patriotic Movies
Sitting down and watching patriotic movies or shows with kids is a great bonding activity on Fourth of July. However, you should take into account the kid's age and interest, so nothing too complicated. Examples of kids appropriate patriotic movies include Captain America, Independence Day, Forrest Gump, An American Tail, The Sandlot, Night at the Museum, etc.
Zombie Nerf Wars
Oh no! A zombie outbreak is just happening in our homeland. Grab your Nerf blasters and prepare to defend our beautiful country. Kids can play humans vs zombies on this zombie theme inflatable maze.