What Bounce House for Construction Theme Party
David Hansen
Planning a construction theme party for your next event is not an easy task. There are so many things to do to make the party bustling and fun, especially when you have kids as attendants.
But bear with me, construction theme bounce houses definitely will lift some of your loads. So the real question appears to what kind of bounce houses to select for parties with kids. Keep reading, you'll surely get boons if you host a kid's birthday party or a construction company event.
Construction Site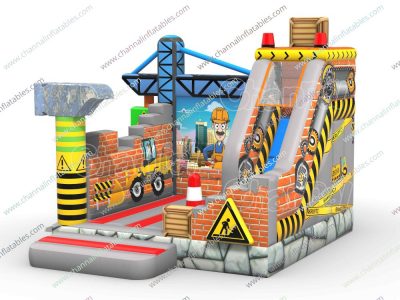 Overall, a construction site bounce house does the job well as a general purpose solution. As the name suggests, this inflatable bounce house depicts a visual scene of construction zone. Kids are able to learn how a construction site looks like while jumping on it. Therefore, it is a great platform to teach kids some construction side knowledges, especially about on-site safety.
Now, it is showtime for some heavy machines.
Front Loader
A front loader is for moving materials or debris. This design would best suitable for a front loader inflatable combo. As you can see, the front bucket makes a perfect transformation into slide.
Excavator
Lie to me, say you do not want to operate a excavator. Although an excavator bounce house with slide cannot fulfill your dream, it will be still fun. You get to jump and slide in a giant lifelike excavator with blow up diggers and wheels.
Dump Truck
Dump truck may seems a little dumb, see what I did there. But let's give it a chance. You see, does the raised dump body somehow give you an image of slide? So a dump truck theme inflatable slide for kids to slide will certainly rock any party.
Demolition
In our deep inside, we all like to break stuff from time to time. If you enjoy the fun of demolition, inflatable wrecking ball is non-negotiable. It is a fun group game for a party by all means.