What Inflatable Equipment To Consider For Indoor FEC
David Hansen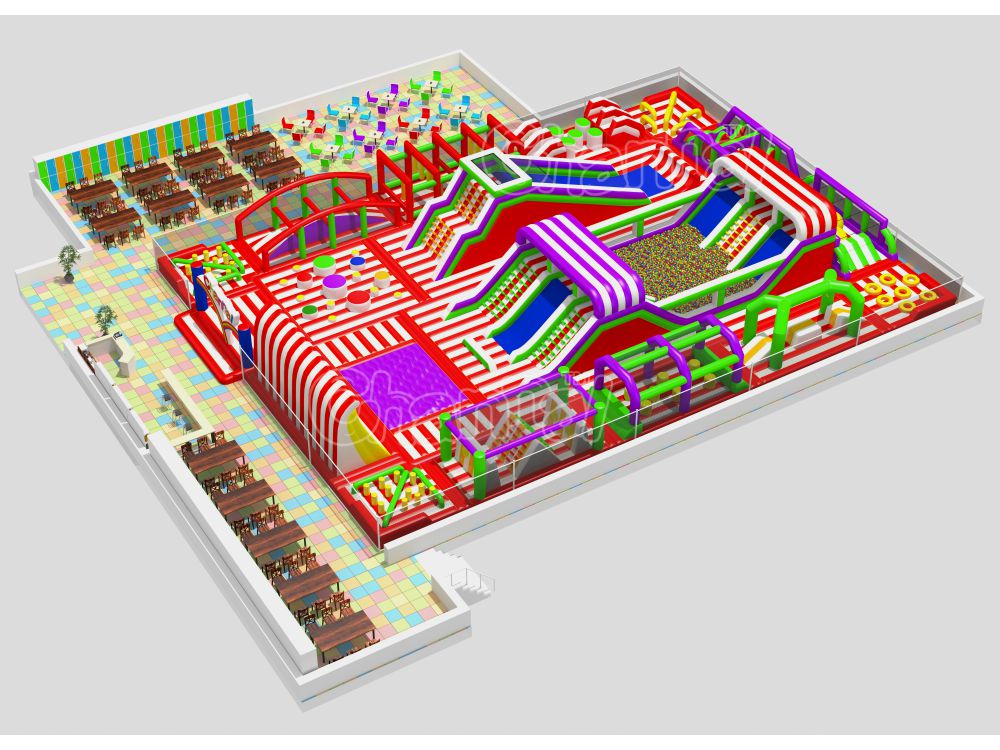 What inflatable equipment to consider for an indoor family entertainment center, and how much do they cost? This is one of many start-up questions when someone wanna open an indoor family fun center for kids' fun parties and activities.
1. Largest Inflatable Playground / Theme Park
If you plan to go big, wanna have a large open area for all parties at the same time (of course you also wanna have small rooms as private cake rooms), then a giant inflatable indoor playground with many inflatable plays already included is properly a good idea. This kind of giant playgrounds generally are combined with different inflatable equipment, those parts can be separately used.
Cost: normally more than 30k dollars for size like 30×30.
2. Long Inflatable Obstacle Course
It is without doubt to establish a long double lane inflatable obstacle course in your indoor fun center, so kids can run and compete with each other, and parents can help count time. If you want kids really enjoy the running, add more challenges to the course, like slide, climb, tunnel, squeeze pop ups and other inflatable obstacles.
Cost: typically ranged from 1500 to 10k
3. Giant Inflatable Slides
Besides jumping, another common activity associated with inflatables for kids is sliding. A giant slide will do the work that make sure kids have a good time.
If you have a water play area in your indoor FEC, then an inflatable water slide makes a great fit. It is going to be the most popular attraction in summertime.
Cost: from 1k to 4k
4. Varieties of Inflatable Games
You can't expect all kids just jump and slide until party's over, that's boring even for kids. You need these all kinds of different inflatable games for them to try and play.
A collection of games to add to your list, such as inflatable wipeout course, gladiator joust, last man standing, basketball shooting, inflatable sticky wall, sumo costume fight, etc.
Cost: those games' prices vary a lot, some are cheap, some will cost you several thousands of bucks.
5. Inflatable Birthday Chairs
This one is obvious, when a kid is celebrating his or her birthday, the day is all about the kid, and he or she should be treated like a prince or princess sitting on a blow up b-day chair. Those inflatable chairs often would be designed as a king or queen's throne, or just normal ones but with birthday decoration theme.
Cost: around 200 – 300.
6. Large Inflatable Disco Dome
Let the kids dance and dance till they drop. You can set up a giant inflatable disco dome which allows a bunch of kids dancing together with host. It will be more fun dancing on bouncy floor than on the ground.
Cost: 1k – 3k (not include disco lights and sound system, just the inflatable)
7. Large Inflatable Maze
Inflatable maze takes quite some spaces, but if your indoor family entertainment center is bigger enough, a maze is highly recommended. Kids can explore the labyrinth and look for treasures, or simply play hide and seek inside.
Cost: 2k – 4k
8. Ball Pit
Last but not the least, actually it is a must have, especially for small children and toddlers. You can combine ball pit with bounce house or slide.
If you just start a new indoor kids party place and want some inflatables, you can start from buying small ones and slowly change to big ones. If there is a start-up package for anyone who goes all in on inflatable indoor family fun center, I would recommend a basketball hoop, 1 or 2 bounce houses, 1 or 2 slides, an inflatable obstacle course, a game, a ball pit, an inflatable chair.