How to Throw a Bounce House Party
David Hansen
Your kid's birthday is on the way, you and your child have decided to celebrate it with bounce house this year. But you are gathering ideas on how to make this bounce house birthday party splendid for every attendee. Well, let's plan a wonderful b-day party altogether.
Party Theme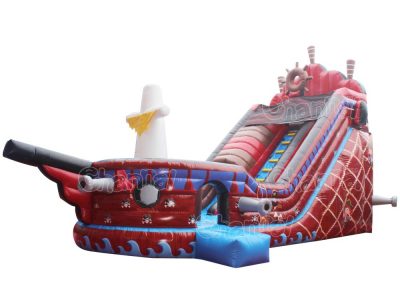 First things first, you need to finalize the theme of the upcoming party. This party theme will be firmly tied to the whole celebration. Will it be a pirate theme, or a cowboy theme? Ask your kid's voice. Then you'll know what theme of bounce house to rent. But if kid don't want any specified theme, then you can still get birthday themed bounce houses, like a birthday cake bounce house.
Where to?
Where to have this birthday party for your kids? As to bounce house, you have two options, either rent a bounce house at home or go to bounce house party places.
If hold at home, you will need to do all the hard work, but you can get it more creative and memorable. In terms of birthday party places, you pay what you get.
Birthday Cake
There is no more important item than birthday cake in the kid's special day, except for birthday gifts. How the cake is going to be is totally depend on the wishes of kids. A big, gorgeous and luscious birthday cake always get kid's heart.
Birthday cakes can be also served as rewards for kids who won in the previous games they played. They can have larger pieces of cake if they won the contests.
Birthday Gifts and Party Favors
Parents' gifts to their children weigh the most than the ones from kids' friends. Before any hurriedly wrapping up, ask your kids what they want in mind.
A successful and happy birthday do not utterly depend on the only birthday prince or princess, but the joyness of other guests are also important. You'll prepare fine party favors well to thank those little guests.
Bounce House Party Games
Jumping on an inflatable bounce house all the time? Sounds fun, but it would probably get boring soon. So we need to come up with some fun bounce house party games to entertain all the kids and keep their excitement continuous.
I will talk about various bounce house games in another post.
Don't Forget About Other Inflatables
You know, they do not just make bouncy houses. As alternatives, you can rent inflatable water slide, inflatable obstacle course and even inflatable disco dome. If your kids love to dance, with disco dome, you can totally throw a bounce house dance party.
Inflatable Birthday Chair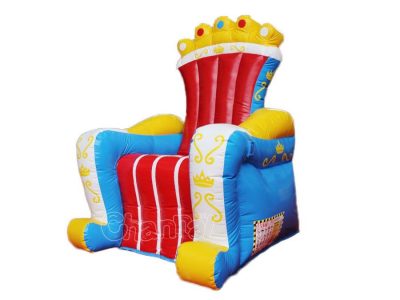 Inflatable birthday chair have some advantages than usual chair.
It can be designed as King's throne or princess's chair.
It is blown up, so it can put aside when not used.
It is out of the ordinary, make birthday boys / girls feel pretty special.
Some Rules
Although it is the day of the year, it is not wise to let your kids completely go nuts.
You'll need to set down some ground rules to make sure all kids are physically safe while having much of fun. Some rules may be like do not eat too much sugar, don't bring any flatwares into inflatable bouncer, don't go near the blower that pump up the bounce house, etc.
There are more things to consider for throwing a perfect bounce house party, such as party decorations, dresses, safety rules, etc. However, it is all worth of it, after all, it is for your beloved kids.
More to Read: