Wedding Reception Inflatable Games
David Hansen
What will keep your wedding guests satisfied and entertained other than delicious food? Of course, it's games. Sure, live band, magic or even fire performing are eye-opening. However, interactive games are essential for a lively reception party.
Do you know you can play most of wedding games in inflatable version? For example, inflatable connect four. It would make things better if you hire some inflatable games for the wedding. Let's find out those inflatables.
Wedding Bounce House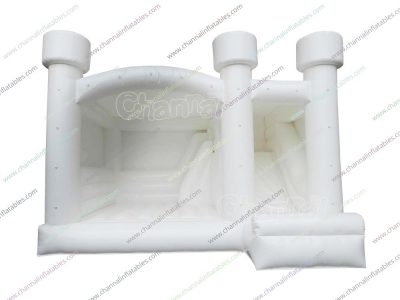 Renting or buying a wedding bounce house for wedding is becoming a trend. They are normally white, sometimes pink. A white wedding bouncy house is a great prop for wedding photographing. Besides, it also serves kids to have fun with jumping.
Inflatable Slide
Don't expect kids will just sit through the whole reception. That is physically impossible, they are energetic after all. If you anticipate any kids on your wedding, prepare some play zones for kids. One of highly recommended outdoor games is inflatable slide. Just this thing will keep children busy till the end of the wedding.
Inflatable Connect Four
Inflatable connect four is actually a basketball game. Shoot the basketballs into the columns, try to form 4 balls in a row, column or diagonal. Adequate for both adults and kids, qualified as both physical and mental game.
Human Foosball
Looking for a group game to engage your guests, how about a life size human table soccer? This is a game involves humen as the fixated figures mounted on the rods. As you can see, it doesn't require players to run around the field so as to perspire too much.
Giant Bowling
What can be more satisfying than knocking over giant bowling pins on the lawn? Set up a giant inflatable bowling game with 10 blow up bowling pins. Then roll them over with a zorb ball. It is up to you to decide whether or not a human is in that zorb ball.
Ring Toss
The most traditional game never gets old. Inflatable ring toss triumphs regular forms of ring toss by blowing up its size. Specially suitable for kids.
Inflatable Tic Tac Toe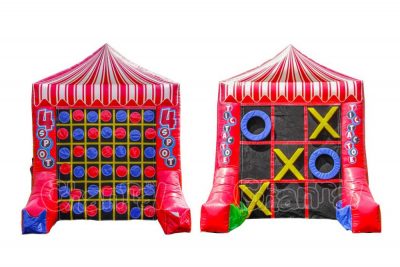 Another classical game for little kids to play. Inflatable tic tac toe is so different than traditional paper and pencil tic tac toe, because it is large and visual.
Inflatable Last Man Standing
Can you become the only survivor who stands last on the inflatable wipeout platform? This game would garner a huge crowd among your guests. You can prepare small party favors for those winners to heat up the vibe.