Stress Relief Games and Activities for Kids
David Hansen
Children also stress out like adults, you know. They can suffer a lot of emotional and physical stress from parents and schools during their childhood.
In any event, stress relieving is critical for kids. And we can make sure there are many fun games and activities for kids to destress and live a happy life.
Bounce House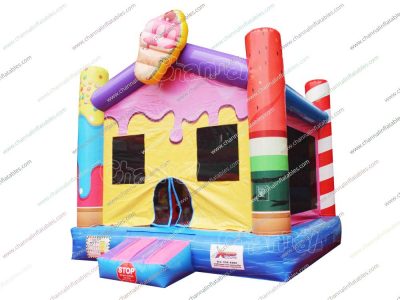 You never have fun if you never once jump on an inflatable bouncy house. The moment kids start to bob up and down, their troubles go away. Perhaps it's better to arrange a bounce house for your kids more often, not just for their birthday party.
Inflatable Water Slide
If you can figure out why a swing always makes kids laugh, you should have no difficult understanding water slides do that too. Moreover, kids will be covered with water when they slide and splash into a pool, that is called fun and refreshing. Blow up water slide is the one game kids can't miss out in summer.
Songs and Dances
If there is one thing people often forget while coping frustrations, that is to sing and dance. Listen to your favorite music and sing along with them, dance like nobody is watching and the whole world is your oyster. For kids, introducing an inflatable dance dome to them, a wonderful dancing floor for them to let go all the problems.
Sports
We are confident to say that playing sports has the magic power to really calm one down. There are quite a lot of sports fit for kids and teens, such as soccer, mountain biking, horseback riding, indoor kart racing, kite flying, etc. Mind sport would help kids focus their attentions so as to leave tensions behind.
Traveling
Take some time off and bring your kids to a vacation, even a day trip has a big impact. If you have enough budget, traveling abroad offers a totally new experience for kids. If possible, get close to nature. Your kids will embark on a miraculous spirit-cleansing journey in the wildness.